How awesome would it be to increase your endurance, feel stronger, see a lean, toned reflection in the mirror - and wear the confident smile of someone who looks and feels their best?
I know you have high expectations for yourself. You work hard in all areas of your life. And you play hard when you get the chance, too.
But have you:
Struggled to stick to numerous restrictive diets?
Felt fatigued upon waking up, or crashed mid-day?
Felt foggy and off your "A game" at school or work?
Spent hours in the gym, with nothing to show for it?
I KNOW HOW YOU FEEL. Frustrated. Defeated. Maybe even close to giving up.
I've been there. Allow me to assure you, there is light at the end of the tunnel.
I can help you look and feel your best with my exclusive online coaching program.
WHAT'S ONLINE COACHING?   
I provide a training plan that includes strength workouts and cardio (the right kind) so that you lean out while toning up. I provide a nutrition plan that includes your favorite foods so that you can lose weight without feeling deprived. And, I provide mindset coaching and motivation so that you are accountable to your plan, stick to it, and see amazing results.
All of this is delivered straight to you via the Internet. That means you can workout on your time instead of trying to book in with a busy personal trainer. Early riser? No problem. Night owl? You do you. Each workout is designed around your schedule, and the equipment you have available.
This is not a cookie-cutter program you can find online.
The workouts and nutrition plan are hand crafted for you - like a fine wine or microbrew.
And with online coaching, you can workout at home or at your own gym when it suits your schedule…
No need to worry about fitting into a busy trainer's schedule or competing with other athletes for the popular time slots!
WHY CHOOSE ME AS YOUR COACH?
I'm a lot like you. I was an active athlete growing up. I played basketball, softball, and lacrosse. After graduating college, I'd put on some weight, so I started working out again in an attempt to lose that extra weight and regain my athletic body.
But I went about it all wrong… crushing myself with marathon cardio sessions that left me ravenous and exhausted, all without seeing results in the mirror. I was beyond frustrated!
That's when I decided to make a real change. I learned everything I could about training for fat loss, and as it turns out, CARDIO IS NOT THE ANSWER.
Strength training and interval training are the secret one-two punch for fat loss.
I implemented that knowledge and came out the other side leaner, stronger, and HAPPIER than I'd ever been. Not only did I fall in love with how I LOOKED by changing my training, I was able to PERFORM so much better in the gym and outside of it. Strength had an amazing carry-over to the other things I loved to do: play sports, snowboard, hike, mountain bike, and rock climb. You name it, I got BETTER at it by following a strength training program.
As a coach, I'm here to teach you how to train optimally to lose weight, lean out, and increase your performance inside the gym so that you LOOK AND FEEL YOUR BEST and are ready to conquer life's adventures!
BUT DON'T TAKE MY WORD FOR IT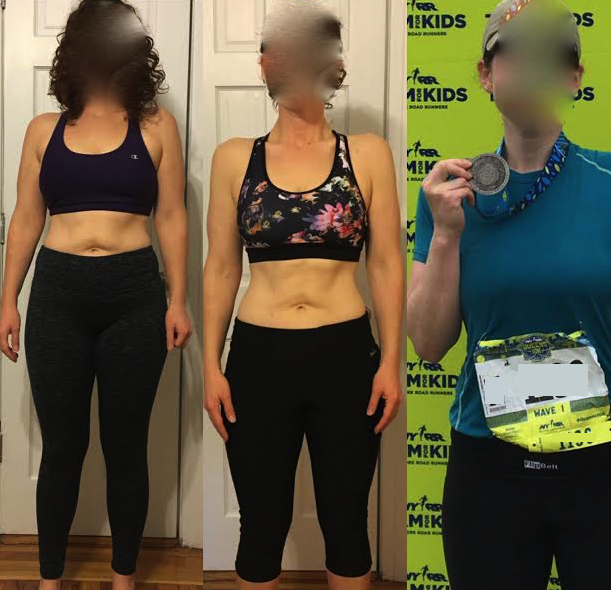 Take it from Elise, who went all in and crushed her training program, losing 14# over six months, gaining strength and confidence along the way.
Here's what Elise has to say about the KPxFitness Online Training program:
"Katie's online training program kept me on track at the gym over the holidays. The program was challenging, but I stuck with it and am happy with my results. Because of Katie's coaching, I finally see a big difference in the mirror, and I feel stronger all around! She gave me the tools I need to move my fitness forward. I would definitely recommend Katie's training!"
Elise even completed her first 10K and half-marathon after completing our online training program!
IS MY COACHING FOR YOU?
Not to be immodest, but I'm not a beginner. I've taken the time to study exercise and nutrition sciences, and trained myself and others for years to figure out what works, and what doesn't. I get better results than other trainers.
All my programs are hand-crafted and custom made, just for you.
You'll get everything you need via an exclusive training app.
We'll check in via Skype or phone, adjusting your program as you progress.
You'll have to put in the work, but I can help you look, feel, and perform your best.
The results may just change your life.
So, what are you waiting for?