KPxKitchen
Welcome to KPxKitchen, a new feature where I share the absolute best recipes for your enjoyment.
This week, I'd like to share a super simple and delicious meal prep recipe that has become a staple for me. It takes maybe fifteen minutes to prep all of the ingredients and set this dish cooking in the crockpot. You can make enough food to last all week, so you always have a healthy option. And honestly, I usually make so much that I have to freeze half of the food for the following week.
Crockpot Pulled Chicken
Ingredients
1 package (2-3 lbs) chicken breasts or boneless/skinless thighs
1 jar of red or green salsa
optional: additional veggies such as peppers and onions, diced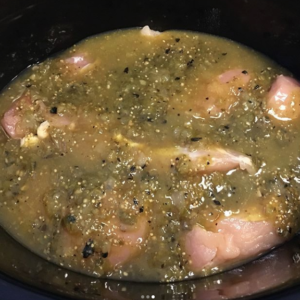 Step 1

Prep your ingredients, including trimming the fat from the chicken breasts/thighs, and dicing any peppers or onions you wish to add to the crockpot. This is totally optional, as you can make a perfectly good pulled chicken meal with only the meat and salsa.
Step 2

Place the chicken meat in the crockpot, seasoning with salt/pepper as desired. Add your (optional) diced veggies. Finally, open the salsa jar and pour it into the crockpot, making sure to cover the chicken meat.
Step 3

Place the lid on the crockpot and set it to cook. Depending on which crockpot model you have, there will be different options based on how much time you have available for the meat to cook. I usually select my crockpot's 6-8 hour setting so that the food starts cooking around 10 am after I prep it and is ready around dinner time. The setting doesn't really matter, though, since the crockpot will adjust the cooking temperature accordingly.
Step 4
After the chosen time has elapsed, your crockpot will switch to the "warming" setting, and you can turn it off at this point. Using a fork, rake through the meat to pull it into strips, just like pulled pork or pulled chicken. Transfer to a storage container or refrigerate in the crockpot itself.
I serve the cr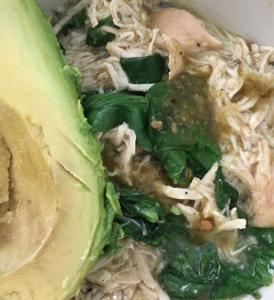 ockpot chicken a number of ways.
Low carb: heat up the chicken and serve on a bed of spinach, topped with avocado slices.
Breakfast: fry/poach an egg and serve it on top of the pulled chicken.
Lunch: serve on a whole wheat tortilla/wrap like a burrito with lettuce, tomato, and beans
Dinner: serve the pulled chicken with steamed rice and stir-fried peppers.
There are an endless number of serving options depending on your taste preferences and nutrition needs. Get creative! Any way you serve up the crockpot pulled chicken, it's a great option for meal prepping so that you always have a healthy protein source on hand.