KPxKitchen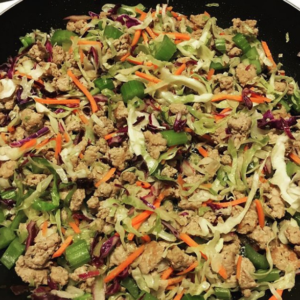 Welcome to KPxKitchen, a new feature where I share the absolute best recipes for your enjoyment.
This week's recipe takes inspiration from a recent dish I taste-tasted from the meal delivery service, Home Chef. The flavors are spicy and savory. You can double this recipe to meal prep for the week, but as-is, it will serve two people for a wonderfully filling and healthy dinner.
Asian Pork Egg Rolls in a bowl
2 Green Onions
2 Celery Stalks

1 Bell Pepper

12-16 oz. Ground Pork 

1 Bag of Slaw Mix 

1/2 oz. Roasted Peanuts

Olive oil for coating pan

Coconut aminos (see pic) or low-sodium soy sauce

Optional – Sriracha and/or crispy wonton noodles
Preparation:
Slice the green onions on a bias and dice the celery and peppers.
Heat oil in a pan over medium-high heat. Brown the pork, breaking it up as it cooks. Season with salt/pepper/garlic. Add coconut aminos (or soy sauce) to taste.
Once the pork is browned, add diced celery/peppers. Cook until the veggies soften.
Add the bag of slaw mix, cooking and stirring to combine everything until the slaw is slightly wilted.
Plate the pork/veggies – topping the meal with roasted peanuts, green onions, sriracha, and optional crispy wontons.
This recipe makes 2-3 servings and stores really well for several days in the refrigerator, making it a perfect meal prep option. Each serving is approximately 500-600 calories, and 30g each of protein, carbs, and fats (not including whatever you serve with the dish).
Plate the pork/veggies on top of a bed of rice, cauliflower rice, zoodles, or on top of greens if you're low-carbing it. You can substitute the ground pork for chicken/turkey or lean ground beef to reduce the fat macros in this dish.