The number one thing you can do for your health, well-being, and sexiness is to eat more plants.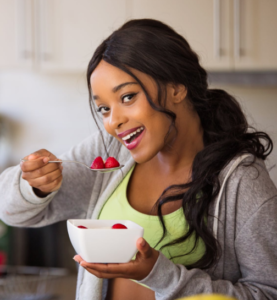 Cheesy stock photo aside, veggies are great to include in your diet because they are low in calories, but high in vitamins and minerals. We call veggies "nutrient dense" as opposed to more calorie dense foods like pasta or rice. Eating a wide variety of different colored vegetables ensures that you get all different kinds of vitamins, minerals, and antioxidants. Not to mention, veggies are high in fiber, which keeps you feeling full without overeating calories.
So, vegetables fill you up and provide tons of nutrition at a low calorie cost? Win-win-win.
But sometimes that's hard to eat a variety of vegetables because we don't like their taste or texture, or we're not sure how to prepare veggies in ways other than in salads.
Rest assured, there are plenty of simple ways to increase the amount of vegetables in your diet without suffering through seven days of salads.
First of all, I get this question a lot, so don't feel like it's silly, or that you're silly for wondering:
What counts as a vegetable?
Vegetables are most plants besides fruits, grains, and legumes.
Leafy greens (spinach, collards, etc) and lettuces lead the low-calorie pack. Peppers, onions, mushrooms, peas, green beans, carrots, celery, cucumbers, and zucchini are some of the most popular vegetables. Then there's cruciferous vegetables like broccoli and cauliflower, and root vegetables like potatoes, beets, parsnips, and turnips. This is not an exhaustive list, but it's nice to think beyond Iceburg lettuce and Idaho potatoes.
What isn't a vegetable?
Corn for one thing; it's a grain. Beans for another; they come from the legume family. So when we say "veggies," we're talking leafy greens, carrots, zucchini, broccoli, beets… that kind of stuff. The problem with a lot of these veggies is that they often have bitter tastes or weird textures.
How can you overcome those tastes/textures to include a wider variety of vegetables in your diet?
Roasting and/or Grilling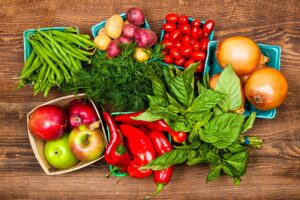 Cruciferous vegetables like kale, broccoli, and cauliflower can be bitter raw, or "stinky" when boiled. Blah. Roasting or grilling these veggies transforms their bitter compounds and makes them almost sweet to eat. This cooking method also works great for root vegetables like carrots and beets.
My favorite roasted veggie recipe is:
Butternut squash, cubed
Brussel sprouts, halved
Red onion, thick sliced
Chop all veggies and lay flat on baking sheet. Sprinkle with olive oil, salt, pepper, and/or garlic powder. Roast at 400* until veggies are fork-tender. Serve as a side for grilled chicken, pork loin, or steak.
Blending
A sneaky way to add vegetables to your diet is to blend them so that texture is no longer an issue.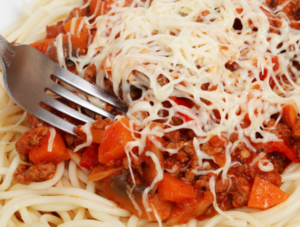 You can also sneak an infinite amount of vegetables into sauces. For example, I make a mean pasta sauce, and by using copious amounts of garlic and onion, you could never tell that there's also red peppers, carrots, zucchini, mushrooms, and/or cauliflower hiding in the sauce.
Vegetable pasta sauce:
1 can diced tomatoes
1 cup onion, diced
1 cup carrots, diced
1 cup bell peppers, diced
1 cup cauliflower, steamed
Garlic and Italian herb mix
Coat the bottom of a pot with a tablespoon of olive oil and heat on medium. Add diced carrots, onion, bell peppers, cauliflower, and garlic to taste. Saute until softened. Add your diced tomatoes and continue to cook on medium heat. Let the sauce simmer (not boil) for about 10-15 minutes. Add Italian herbs. Using an immersion blender, or transferring to a food processor, blend the sauce until the veggies disappear.
You can apply this same concept to meat sauce. Just brown a pound of ground meat and pour the sauce on top to incorporate all the ingredients.
Carb substitute
Carb sources like pasta and rice aren't bad for you per se, but they aren't as nutritious as vegetables. You can instantly improve the healthfulness of any meal by subbing out traditional grains for vegetables instead.
Most grocery stores now carry pre-cut spiralized veggies with clever names like "zoodles" (zucchini noodles). Simply steam or sauté these pre-cut veggies. Try drizzling with olive oil and pepper, adding pasta sauce, or using the spiral cut veggies as a bed for grilled meat.
Cauliflower is especially versatile as a rice or mashed potato substitute. I love whipping up cauliflower mash, which makes a super quick and simple side dish that's much lower-calorie than its traditional counterpart.
Cauliflower mashed "potatoes"
1 head of cauliflower, chopped, then steamed or boiled until fork tender
1-2 Tbsp Kerrygold butter
1/2 cup unsalted veggie stock
Steam or boil the cauliflower until it's fork tender, about five minutes. Then, using an emersion blender or transferring to a food processor, chop up the cauliflower. Add butter and stock and blend again until creamy smooth. Salt/pepper to taste.
Seasonings – herbs, spices, citrus
Another way to make cruciferous vegetables less bitter is to use citrus. The acid in the citrus fruits cuts the bitterness.
Cooking with a variety of herbs and spices can make otherwise "boring" vegetables taste much different.
The Big Ass Salad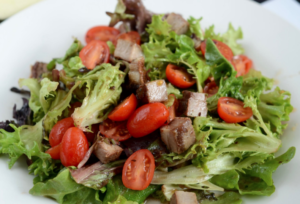 Okay, I know I said I'd tell you how to eat more vegetables without resorting to salads, but honesty, if you think salads are boring, it's because you're not using your imagination.
My dad thinks of salad as iceburg lettuce, carrots, croutons, and a bucket of ranch dressing. He hates salad. And if that's all I put on my plate, I would, too.
Mix up your greens: romaine, spinach, and arugula are all great options. Then throw down the "crunchies" my dad raves about: carrots, celery, cucumbers, jicama, bell peppers.
Use a theme to spice things up: you could serve chicken fajitas on a bed of shredded romaine with peppers, onions, and mushrooms, add corn/beans (just because), and use salsa for your dressing. Get creative with all-you-can-eat veggies.
Need more ideas? Follow KPxFitness on Facebook and Instagram for healthy recipes.